hot-sale CEE-28 socket box
Product Detail
Product Tags
Application
The industrial plugs, sockets, and connectors produced by CEE have good electrical insulation performance, excellent impact resistance, and dustproof, moisture-proof, waterproof, and corrosion-resistant performance. They can be applied in fields such as construction sites, engineering machinery, petroleum exploration, ports and docks, steel smelting, chemical engineering, mines, airports, subways, shopping malls, hotels, production workshops, laboratories, power configuration, exhibition centers, and municipal engineering.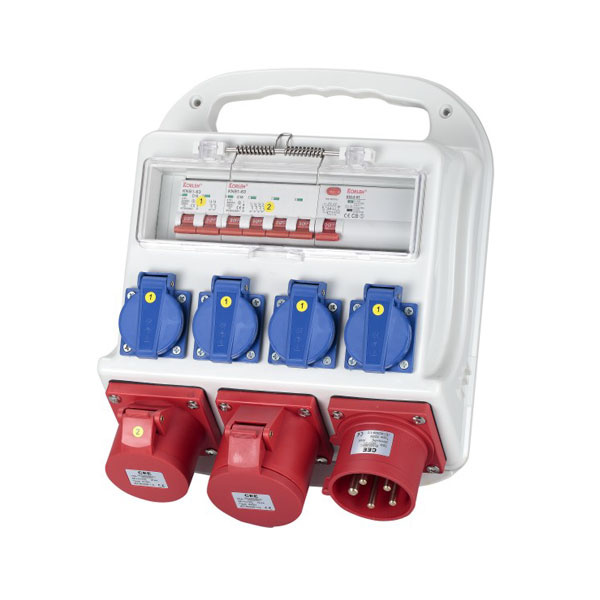 CEE-28
Shell size: 320×270×105
Input: 1 CEE615 plug 16A 3P+N+E 380V
Output: 4 CEE312 sockets 16A 2P+E 220V
2 CEE315 sockets 16A 3P+N+E 380V
Protection device: 1 leakage protector 40A 3P+N
1 small circuit breaker 16A 3P
4 miniature circuit breakers 16A 1P
Introducing the CEE-28 - the ultimate power distribution unit for all your electrical needs. This top-of-the-line product combines supreme functionality with sleek design, making it an excellent addition to any workspace.
Measuring 320×270×105, the CEE-28 features a powerful input in the form of a CEE-615 plug, providing 16A 3P+N+E 380V. But that's not all - the unit also boasts 4 CEE-312 sockets, offering 16A 2P+E 220V, as well as 2 CEE-315 sockets delivering 16A 3P+N+E 380V. From powering up your laptops and printers to running high-powered machinery, you can rest assured that the CEE-28 has got you covered.
The safety and protection of your electrical devices is paramount, which is why the CEE-28 comes equipped with a range of safety features. This includes a leakage protector offering 40A 3P+N protection and a small circuit breaker providing 16A 3P protection. Additionally, there are 4 miniature circuit breakers delivering 16A 1P protection, making sure that your devices are always secure.
Beyond its impressive technical specs, the CEE-28 also looks great with its inclined surface design and durable shell size of 320×270×105. The unit is also easy to install and disassemble, making it perfect for both permanent installations as well as temporary setups.
Whether you're a trade professional, industrial worker, or simply someone looking for an efficient power solution, the CEE-28 is the perfect choice for your electrical needs. With its high-quality design, advanced features and sleek look, it is sure to become your go-to option for all your electricity requirements.
In summary, the CEE-28 is a power distribution unit that combines outstanding power output with a sleek look and advanced safety features. It features 1 CEE-615 plug, 4 CEE-312 sockets and 2 CEE-315 sockets, with a range of protection devices that keep all your devices running securely. Its inclined surface design, durable shell size of 320×270×105 and easy installation make it an excellent choice for a variety of settings. Get your CEE-28 today and experience first-hand the power and efficiency it offers!
---
Previous:
CEE-23 Industrial distribution boxes
---
Write your message here and send it to us